Gamers are in an ever-competitive mode to edge out their peers. Towards this end, a gaming mouse that comes with ergonomic features always comes in handy. An optical sensor with a high rolling rate would interest an avid gaming enthusiast. Other aspects that one would look for include the shape, lighting, and buttons that are easily programmable. From the German gaming mouse designers, the Roccat Kone AIMO Gaming Mouse combines an array of features that add fluidity to any gaming experience.
Below is an appraisal of the distinct aspects that make this device a one of a kind in its category.
Color, dimensions and weight
Kone AIMO comes in two colors, black and white. The device is for right-handed gaming enthusiasts with an ergonomic design suitable for a palm grip. At a height measuring 4 cm, the Kone AIMO is comfortably big and bulky. Nonetheless, despite its bulk nature, this mouse is also light weighing at a healthy 130 grams. The manufacturers opted to use non-rubberized plastic that gives a user a soft and satin feel on the fingers. Plastic is easy to clean, plus greasy fingers, for gamers with such, are not an impediment.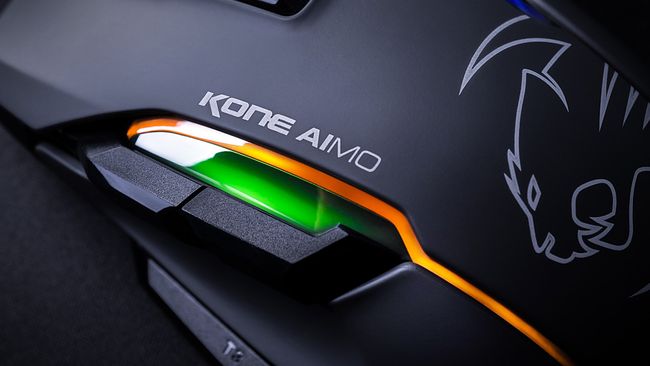 The body – unique design with gaming in mind
The Roccat Kone AIMO mouse has a distinct curvaceous body. Roccat has cleverly inscribed their logo on the face of the mouse plus the words 'Kone AIMO' are visible on the product. The mouse is also thick enough to press firmly into a user's palm. Besides, the makers have included a groove that helps accommodate the thumb. On the right-hand side of the mouse, there are contours enabling one's ring finger to rest and gain a significant grip of the device. A large wheel with ridges ensures that it does not slip on the finger. Also, the click as the wheel turns, punctuates the mood in a gaming room.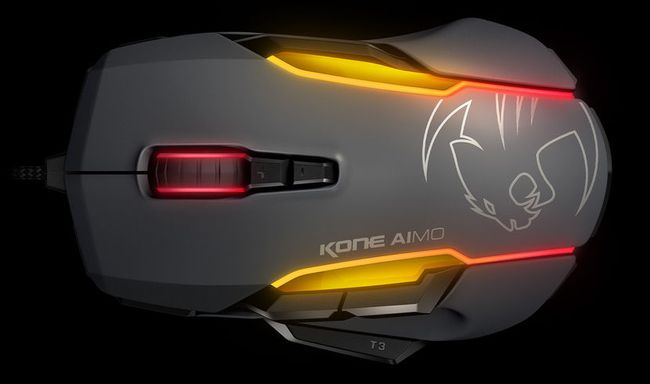 Lighting – spectacular and attractive
Kone AIMO has a lit wheel plus two stripes of light running along the device's body. The glow that forms between a user's fingers helps keeps the flow of adrenaline high. Users will notice the fine bright light coupled with a never-ending luminosity. The manufacturers did not forget to use intelligent lighting that responds to how one uses the device. Moreover, the "intelligent aspect becomes more enhanced depending on the apps a gamer has downloaded in their equipment. Thanks to the frosted plastic material, this mouse exceptionally refracts light. All the same, depending on one's preference, there are other lighting modes available from Roccat.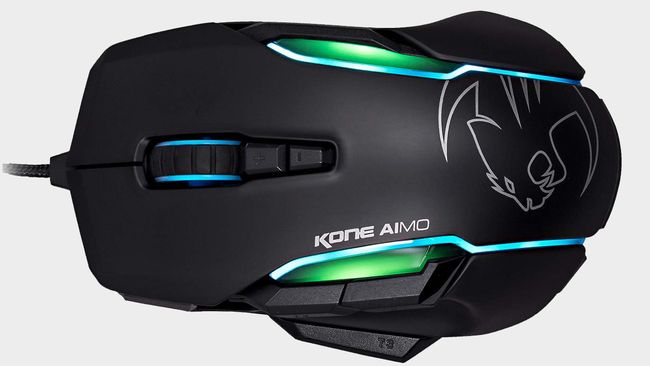 Overall performance
At 12,000 DPI, the sensor in a Roccat Kone AIMO gaming mouse is worth the mention. The developer has utilized the owl-eye technology that among others provides a response time of 1ms coupled with an adjustable polling rate of 1000 Hz. However, users will hardly achieve a DPI max of 12,000. An ideal 1,750 or anything below 2,500 is comfortable enough. Any smoothing beyond 2,500 DPI becomes noticeable and can hamper a gamer's precision. The AIMO feels comfortable during use and gives one a natural feel during tense moments in a game. Also, the device has a fantastic level of accuracy.
Kone AIMO downsides
At 130g, the Kone AIMO is slightly heavy as compared to other gaming mice in its category

The connection cable, even though braided, is non-replaceable

Lighting animations cannot work without installing the Swarm software

Unfortunately, the device favors right-handed users, and the lefties do not have an option
Conclusion
If subjected to a test, the Roccat Kone AIMO passes the gaming excellence with flying colors. Its curvaceous body coupled with the ease with which it fits into a user's palm makes it a high-end product. Bright LED lighting that changes as a user shifts from one aspect of a game to another makes this mouse highly appealing. However, 130g makes it slightly heavier than other variants but would still work correctly for people with large hands. Take a quick glance at  roccat kone aimo to learn more about the capabilities of this incredible mouse.